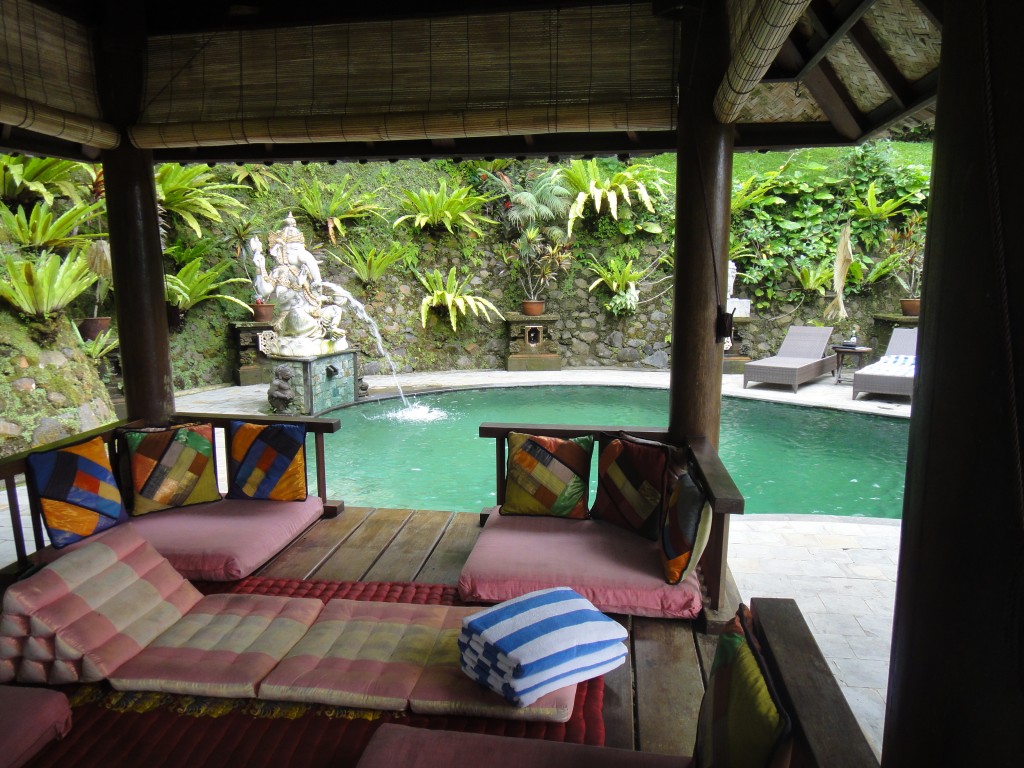 (Ubud, Bali, Indonesia) The Villa Sarna in Bali, Indonesia is a hidden BEAUTY! I was simply blown away by everything the hotel had to offer. From it's friendly staff and hospitality and exotic rooms, to the beautiful scenery surrounding it and everything in between; Villa Sarna is a perfect place for romantic getaways and honeymooners.
The Villa Sarna is a quant, tiny villa that only has 7 suits, but these suits and rooms are beautiful and unique in their own way. My girlfriend and I stayed in the Krishna room (All the suites are named, not numbered) which has an amazing open patio/porch that overlooks the beautiful forrest/jungle that surrounds the entire villa.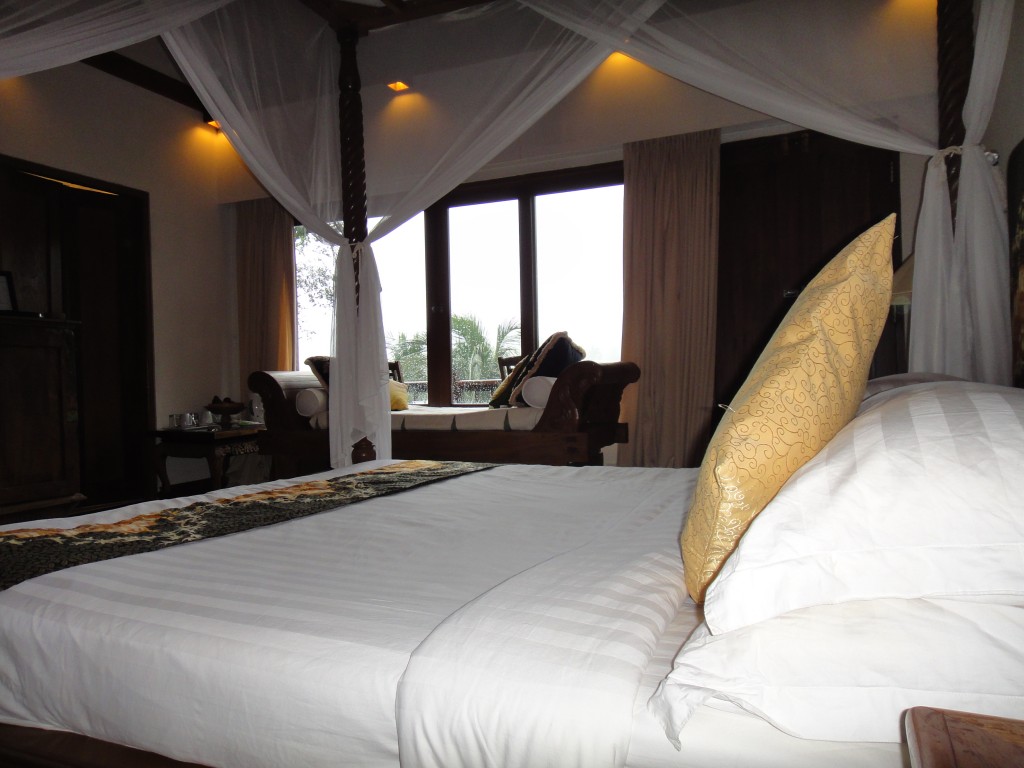 Inside the room was a moderate contemporary design that was simple and elegant. It had a large queen size bed, flat screen TV, DVD, and a fridge that was stocked.  The bathrooms were enormous and beautifully designed with marble, stone floors and countertops. I explored some more and found even a walk in closet! Many villas/hotels say they have walk-in closets in Bali and don't. But this was an actual walk in closet (Trust me, I'm a big guy and I was able to do calisthenics in there!). That's the first time I've ever had a walk in closet so excuse me if I get a little excited over it.
The pool area at the Villa Sarna was serene and tranquil. It had a heated infinite pool that you could get a massage right next too, or just relax and enjoy the forest surroundings. The staff was always around to make sure we had everything we needed, whether it was food (room service or pool side service), reservations at a restaurant for later, arranging transportation, or any other inquiry (the staff was very reliable).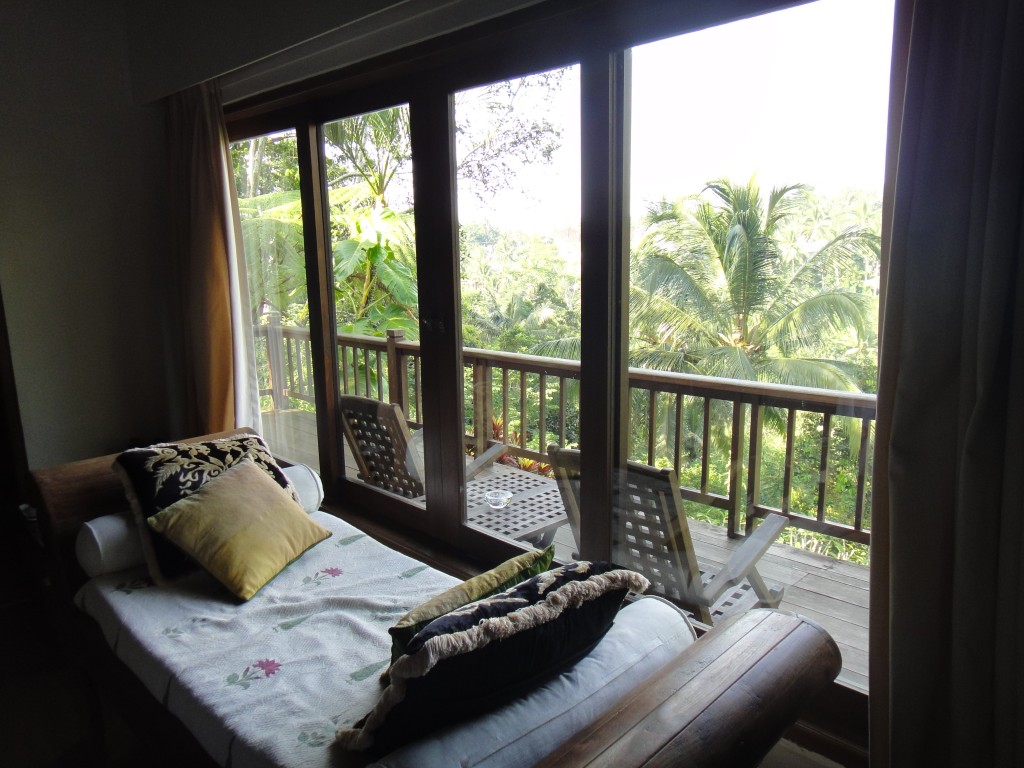 Writing this piece on the Villa Sarna simply does not do it justice. This is by far a 5 star hotel, and if there is such a thing, a 6 star luxurious hotel. I could go on and on about how wonderful this place is, but I don't think I could paint the picture enough to do it justice. Simply put, the Villa Sarna is a place you MUST stay if you come to Bali.
Villa Sarna is located about 15 minutes outside the city center of Ubud, and the Villa Sarna offers transportation to and from Ubud starting at 8am and stopping at 10pm daily. It's about a 2 hour drive (depending on traffic) from the airport (Despansar) to the villa. You can make arrangements with Hotel Sarna for pick up and drop off to the airport (which I highly suggest because it's quicker, inexpensive and reliable. The cost is about $25 US.) Some of the other amenities offered at Villa Sarna are: Wi-Fi, delicious complimentary breakfast, laundry service, and twice a day room service.
-Zach Dresler
Villa Sarna
Ubud – Gianya
Bali 80361, Indonesia
Reservations: +1 352 587 2762
Tel: +62 361 977 265/977 266
Reservations email: info@villasarna.com
Website