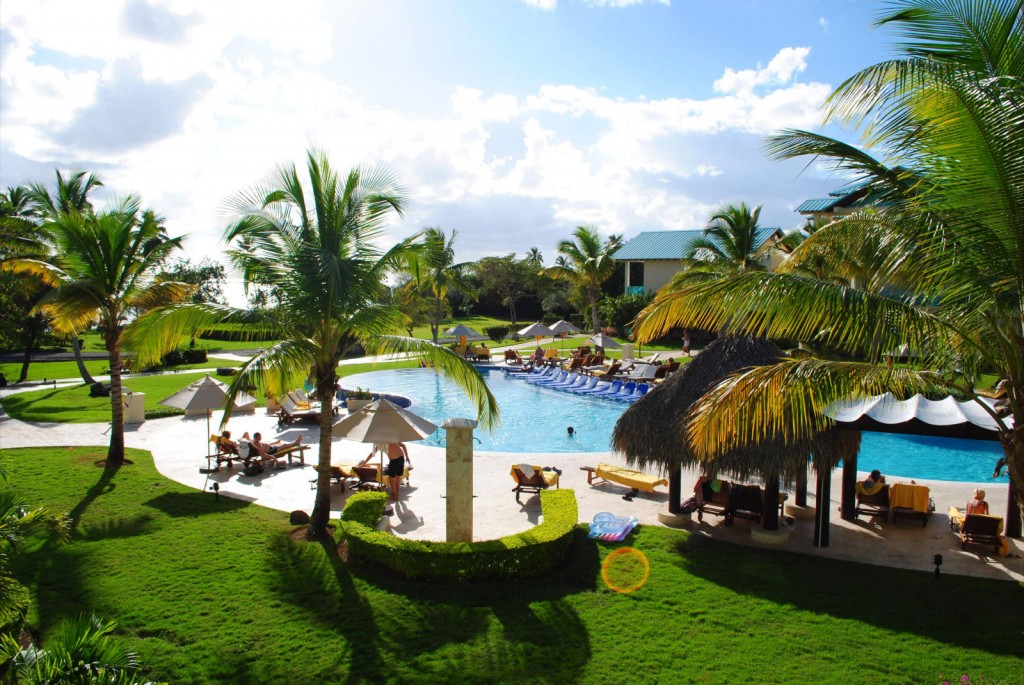 (Dominican Republic) Looking for a destination that personifies unlimited luxury? Then look no further than the Dreams La Romana Resort & Spa, located on the pristine beach of Playa Bayahibe, Dreams La Romana, Dominican Republic. If there is one thing that a lot of travelers like, it's being pampered…and that's exactly what my wife and I were wanted (and absolutely received) during our honeymoon there. The Dreams La Romana Resort & Spa is part of the Dreams family of high class resorts. What sets this resort apart from its competition is that it is rated as a 4 star establishment, but it boasts 5 star amenities at 3 star prices. Built in 2000 and having an impressive 750 rooms, this family friendly all-inclusive resort is a top notch Caribbean paradise that has nearly 1,000 employees ready to please you.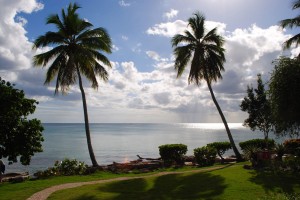 The Dreams La Romana Resort & Spa is located in Playa de Bayahibe, La Romana, Dominican Republic. Contact them at 809-221-8880, or visit them on the web at www.DreamsResorts.com. It sits on the southeast coast of the Dominican Republic, on several acres of flat, pristine oceanfront land lined with tropical jungle and palm trees. The closest town is La Romana, 20 minutes from the resort, and the closest traditional fishing village is Bayahibe, just 5 minutes away. Although La Romana has a local airport (LRM), many travelers fly into the main airports of Santo Domingo Las Americas Airport (SDQ) or Punta Cana Airport (PUJ). The resort is 2 hours (130 kilometers / 81 miles) from Santo Domingo Las Americas Airport (SDQ), and 2.5 hours (69 kilometers / 43 miles) from Punta Cana Airport (PUJ).
Getting to the resort is an adventure in itself. No matter what airport you fly into, paying for private or shared transport is needed. There is no public transport that brings you directly to the resort, and renting a car is both dangerous and inconvenient. As you're most likely going to the resort to relax, do yourself a favor and book a stress free door-to-door transfer with Cocotours (809-455-1259). I cannot say enough good things about my experience with Cocotours. Our driver was there waiting for us at the airport with a sign with our name on it. The 2 hour drive was very safe, and our driver's commentary was both hilarious and educational. He stopped anytime we asked, and gave us a great introduction to Dominican culture. Even with a last minute flight change, Cocotours was able to accommodate us without an issue or added expense. It was also pleasant to be picked up in a new minivan with plenty of room and guaranteed air conditioning! And it's always a good sign when the driver is waiting for you in the lobby upon your return trip to the airport. Cocotours also offers a wonderful array of transfers and tours throughout the Dominican, at the best prices. Don't waste time haggling with a taxi driver, struggling with nonexistent public transport, overpaying with other companies, or risking your life in a rental car – let Cocotours take care of the driving so you can enjoy your time at the Dreams La Romana Resort & Spa.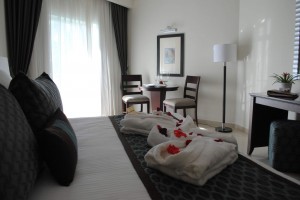 Great Things to Know Before Leaving Home:
1) Tipping – Although gratuity is included in your all-inclusive package, a tip will go a long way, from getting you stronger drinks to receiving a little more attention at the restaurants. The staff work hard, and although not expected, a tip is often the best thank you one can give.
2) Bring Cash – The resort accepts US Dollars, Dominican Pesos, and major credit cards. Be aware that there is often a 6% resort surcharge for using a credit card, plus foreign exchange fees charged by your credit card company. Paying with cash eliminates those extra fees.
3) Language – Like tipping, learning a little Spanish goes a long way. All of the staff at the Dreams La Romana Resort & Spa will greet you with a "Hola", but knowing how to say "how are you" and "thank you" will put a smile on their faces. Nevertheless, the staff does a great job of trying to converse in English.
4) Bugs – Although I can't speak for all months, I was pleasantly surprised by the lack of bugs during our late February visit. Despite being set on pristine coastal flora and fauna filled land, a fly, gnat or other annoying insect was not to be found.
5) Weather – The winter months could bring a daily shower. But don't worry, the showers usually pass within 10 minutes, and are often refreshing.
6) Outlets – The voltage in the resort is 110/120V, so those traveling from the states do not need a converter or adapter.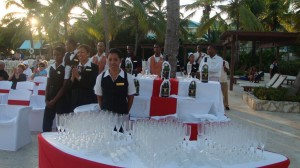 Restaurants:
Everyone enjoys a good meal. Lucky for everyone staying at the Dreams La Romana Resort & Spa, "a" good meal will be followed by plenty of other good meals. With eight international restaurants serving gourmet fare throughout the day, meal time is a highlight. The restaurants, which offer a variety of indoor and outdoor seating, include:
1) International Buffet (World Cafe)
2) Snack Bar (The Seaside Grill)
3) Italian Cuisine (Portofino)
4) Asian Fare (Himitsu)
5) French Cuisine (Bordeaux – adults only)
6) Mexican Food (El Patio)
7) Seafood (Oceana)
8 ) Dominican Specialty (The Jungle)
Food is also available at the Coco Café, at a fast food grille on the beach, through 24 hour room service, and during special events held throughout the resort.
Beverages:
There are 7 bars, including one lounge and one swim-up bar, located throughout the resort, with plenty of opportunities to enjoy a beverage. Actually, there will be countless opportunities to enjoy a beverage as there are unlimited premium brand beverages available. The drinking ages is 18. Drinks are also available in your restockable minibar, and during different events around the resort.
Included (Free) Amenities: (The following features and amenities are included as part of your stay)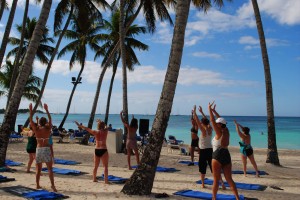 1) All inclusive (food, drinks, gratuity)
2) No wrist bands, reservations or coupons ever needed
3) Beach chairs
4) Beach Towels
5) Water and ice are purified, and bottled water is available everywhere, although drinking from the bathroom faucet is not recommended
6) 3 swimming pools
7) 1 adult only Jacuzzi
8 ) 8 restaurants
9) 7 bars, including one lounge and one swim-up bar
10) 24 hour room service
11) Private beach
12) Entrance to the disco and casino
13) Events and entertainment throughout the day (stretching, bike riding, Spanish lessons, darts, ping pong, billiards, beach yoga, volleyball, horseback riding, live music, dance lessons, cooking lessons, aerobics, archery, diving lessons, poker tournaments, movies, bingo, water polo and aqua aerobics to name a few)
14) Book exchange
15) Board games
16) Shoe polishing
17) Walking trails
18) Rooms with restockable minibar, balcony, one king or two double beds, 27″ flat screen TV with cable, digital safe box, heat, air conditioning, coffee maker, personal bathroom amenities, iron and ironing board, alarm clock with MP3 docking station, origami towels
19) Fitness center
20) Church services every Sunday
21) Tennis courts (lessons, ball boys and racket stringing service available with a fee)
22) Nightly entertainment and show
23) Free wind surfing demonstration, kayaking, scuba diving lesson in the pool, snorkeling, boogie boarding, life jackets and catamarans
24) Kids club with planned events during the day
Amenities at an Additional Cost:
1) Baby sitting service
2) Romantic lobster dinner for two
3) Excursions (island tours, city tours, sightseeing, fishing trips, scuba diving, jungle safaris)
4) Salon and spa (massage, hair, nails, ecological natural spring spa)
5) Souvenir shop
6) Cigar shop
7) Currency exchange
8 ) Doctor service
9) Gambling at the casino
10) Golfing, 
Diving, 
Jet skiing
11) Laundry service
12) Airport transfer
13) Wireless and internet café
14) Professional photos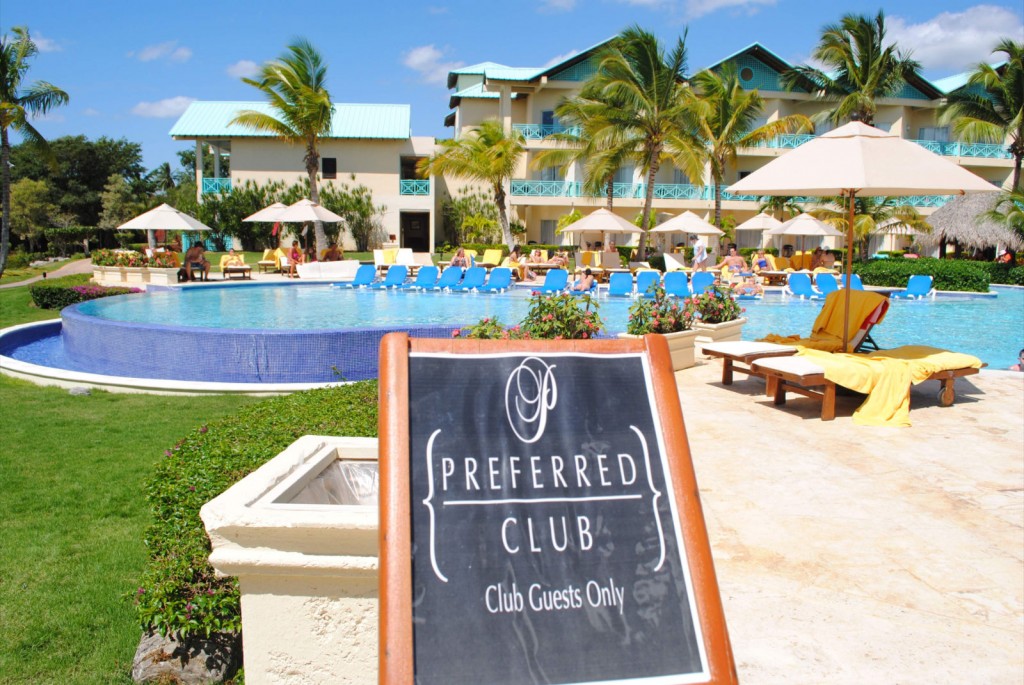 Preferred Club:
As this was our honeymoon, my wife and I felt it was right to splurge and upgrade ourselves to the Preferred Club. How much nicer could an already all-inclusive resort get? A lot nicer for those who are in a position to buy this package. From VIP check-in to reserved tables at each restaurant, I found the extra cost well worth it. The Preferred Club comes complete with its own lounge area, featuring snacks throughout the day, top shelf drinks, free internet, and your own concierge. You also get an upgraded room with turndown service, countless rose pedals decorated throughout, a daily newspaper, an ocean view, unlimited alcohol in your minibar, a robe with matching slippers proudly showing the Dreams logo, and 24 hour room service with an extended menu. Also, you get daily fresh fruit in your room, express check-in and check-out, a welcome bottle of champagne, and a pool and beach area exclusively for Preferred Club guests.
From dinners on the beach to a list of fun activities under our door each day, my wife and I thoroughly enjoyed the excitement and relaxation of the Dreams La Romana Resort & Spa. We fell in love with our honeymoon paradise, and strongly recommend this resort to single travelers, couples or families. We had the option of staying at other resorts, but chose the Dreams La Romana Resort & Spa due to its fantastic reputation and unbeatable amenities. Although the Preferred Club was well worth the added expense, it is absolutely not a necessity. If you're looking for an all-inclusive vacation in a tropical paradise, I encourage you to visit the Dreams La Romana Resort & Spa. Just don't try and count how many times you'll hear "Hola!" and "It's my pleasure", because the staff there are 100% focused on excellent service.
-Joe Hamway
Dreams La Romana
Playa Bayahibe, La Romana,
P.O. Box 80
Dominican Republic