(NY, NY) If you are looking for a place to "Live Life Well" then the 70 Park Avenue Hotel by Kimpton is the place for you!  After a stressful day at work, this was a very relaxing place to end up. They had 7 different kinds of rooms to choose from!  I stayed in there King Suite which had a bedroom, a living room, a balcony with a beautiful view of the Empire State building, and a two-person Jacuzzi! I got a massage right in my hotel room while listening to some soothing tracks off my iPod (they have iHome docking systems in every room!).  The scents the masseuse used smelled really nice and comforting! (They even have massages for pregnant women called "Mother-to-Be Harmony Massage". Not that I would ever have one.  I just think that its cool that its offered)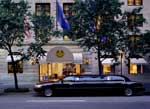 After my 1 hour massage I headed down to the hotels restaurant, Silver Leaf, where I had one of the most tender steaks I've ever had!
The wait staff was really nice and accommodating.  The most surprising part of my stay was that I felt like I was right at home.At night they host an evening wine hour that features a different wine depending on the season. During my stay, "Little Black Dress" was the wine of choice, which might I add, was very good.  I took a late night walk and realized the hotel was close to many great restaurants and a short walk to Grand Central Station and Times Square. The 70 Park Avenue Hotel by Kimpton strives to make your stay just the way you want it to be. If you forgot something, they will make sure you get what you need.  If you want to impress someone you could have a person's favorite song playing in the room for when they arrive. If you want your tub drawn they could even do that too.  No matter what the request, theywill accommodate.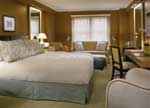 Whether you are traveling on business, pleasure, or family trip the 70 Park Avenue Hotel will make you feel like you are right
at home. They strive to make sure you are happy by personalizing your stay! If you are someone who is interested in a hotel that is 100% smokefree and completely eco-friendly with a residential feel then the 70 Park Avenue Hotel is probably right for you.
-Adam Hamway
70 Park Avenue Hotel
70 Park Avenue
New York, NY 10016
(212) 973-2400
Website