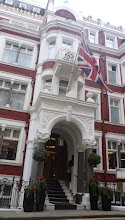 (London, England) A bustling, historic, iconic city like London boasts a multitude of fancy, 4- and 5-star hotels, many of them chains and any one of them will provide for you a pleasant stay when you visit, be it for business or pleasure.  But if you, like myself, are always searching for the most special, most unique and attentive experience, then you simply must check into the St James's Hotel and Club.  From the moment I walked up the adorable side street of Park Pl to the luxurious burgundy private-club-turned-hotel, I knew I was in for a memorable experience.  I could tell as soon as I walked up the steps and was greeted by the knowledgeable and gentlemanly (and cute!) doormen that my stay was going to be all about me.
As a seasoned traveler, I knew I wanted to stay away from the mainstream hotel chains.  Newly renovated and opened in 2008 to the public, you will find richly ornate finishing touches everywhere you turn, from the silk hand-woven wallpaper to the topaz-coloured gem doorknob handles.  Over 200 individual pieces of fun and sophisticated artwork decorate the hallways and rooms — make sure to check out the pictures in the St James's Hotel and Club Lounge along the bar!! There is a cozy tea lounge for guests tucked away in the back of the first floor of the hotel, roomy for plenty of people to enjoy, but homey and gentile as well: the perfect place to borrow a book from the shelf and curl up with afternoon tea or a nightcap after a full day of sight-seeing or shopping.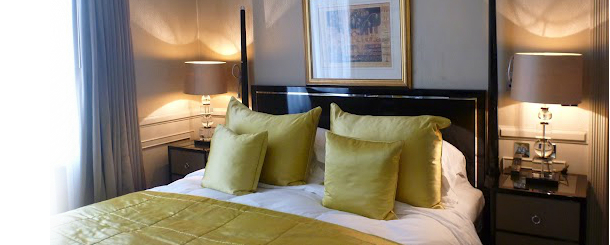 Picadilly, West End and Trafalgar are all within easy walking distance, as well as Buckingham Palace (Location was a HUGE plus for me here!), but you wouldn't know it once you turn onto the quaint side street of the Hotel.  There is a special jogging entrance on the lower floor with a small table stocked with water, fruit and towels.  It's little touches like this that made me feel like more than just another hotel guest.
Every staff person at the St James's Hotel and Club made me feel like a VIP and was attentive to my every need, even the waiters during breakfast were able to accommodate my picky American coffee habits, and the bartender sent me off with extra smoked almonds to take to my room after ordering a drink from the bar.  Definitely make sure to dine in their multiple-Michelin-star restaurant, the the french-inspired cuisine is delectable, seasonally inspired and made from locally sourced ingredients whenever possible.  I simply can not say enough how special and elite, secluded and accessible, peaceful and pampered I felt during my stay at St James.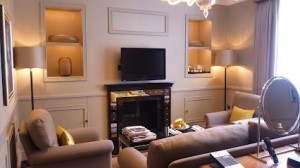 I chose the deluxe suite but was able to sneak a peak in a few of the other rooms and they are all deliciously pristine and comfortable at the same time.  The mini bar was well-stocked and I had a basket of fruit waiting for me when I checked in, turn-down service and mood-lighting when I returned after dinner, and the morning paper in a satchel hung on my door when I rose in the morning. St James's Hotel and Club managed to uphold its classic 'private club' feel while offering all of the modern amenities (free wi-fi, room service, amazing concierges and maps/guides, room service, complementary snacks and scrumptious smoked almonds at the bar, spa-level toiletries, slippers and robes) in addition to internet and music access via keyboard-controlled television in the bedroom AND the bathroom.  You haven't lived until you've played games and listened to music streaming on the tv above your luxurious bubble bath.
-JessAnn Smith
St James's Hotel and Club
7-8 Park Place,
St. James's London, SW1A 1LS
Phone: +44 20 7316 1600
Email: info@stjameshotelandclub.com
Website