Thinking about visiting Niagara Falls and staying on the Canadian side of the Falls?  Do yourself a favor and book into the Hilton Hotel and Suites Niagara Falls Fallsview located at 6361 Fallsview Blvd, Niagara Falls, ON L2G 3V9, Canada.  This new building was finished in May 2009 and offers unmatched comfort, cleanliness and convenience up and down its 53 floors and inside and out its 1000 rooms and suites.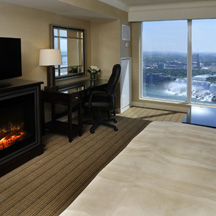 Given the excitement around this Hilton being the tallest hotel in all of Canada, my wife and I had to check it out.  We booked ourselves into a 2 bedroom deluxe suite that featured a breathtaking view of the falls from the 42nd floor, a 2 person Jacuzzi, a fireplace, two flat panel plasma TVs and two king beds.  Throw in a couch, a deluxe coffee maker, a Crabtree & Evelyn convenience package, and an electronic retractable screen separating one bedroom from the bathroom that allows you to see the falls from the Jacuzzi and you have yourself a winning hotel.  The door separating the toilet and shower from the sink and Jacuzzi is a nice feature as well, and being met at the entrance by valet parking is a wonderful added touch.  As the Hilton Hotel and Suites Niagara Falls Fallsview is so new, the amenities are modern, fresh and tastefully designed.
As for convenience, it doesn't getter better than this spot.  The Hilton Hotel and Suites Niagara Falls Fallsview sits right on the lively strip on Canadian side of the falls, and is only a few minutes walk to the Fallsview Casino Resort.  The hotel is so convenient that you don't even have to venture outside to get into the casino or to find a variety of dining establishments – it's all attached.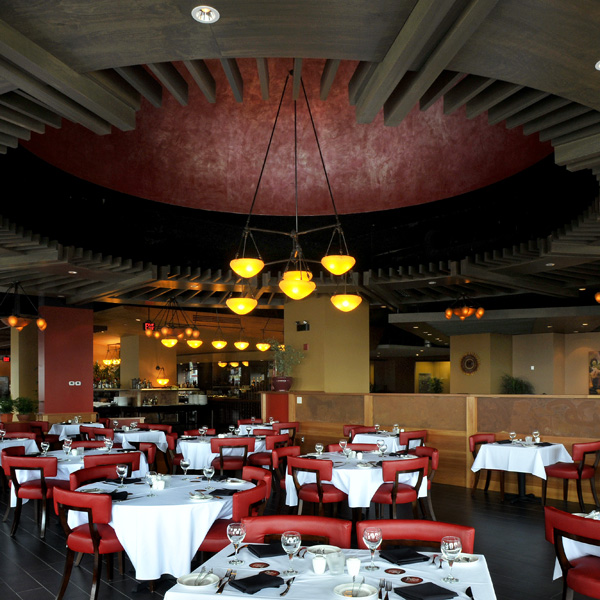 The Hilton Hotel and Suites Niagara Falls Fallsview has four places to eat right within the walls of the facility, each with impressive views and service – the Watermark Restaurant, the Macaroni Grill, the Grand Caffe Breakfast, and my personal favorite the Brasa Brazilian Steakhouse.  After dining at Brasa, this authentic Brazilian cuisine will allow you to truly understand how fine dining should be defined.  An all you can eat salad, vegetable and pasta bar is yours to enjoy, and servers ("Gauchos") will greet you at your table with 12 different types of fire-roasted meats.  This is a one of a kind dining experience that you will not forget!  After a nice meal, head to the ground floor and take a dip in the heated, indoor, lagoon-shaped, 10,000 square foot pool complete with its own 3-story, 30 foot, spiral slide.  Follow that up with a relaxing stint in the shockingly large whirlpool, or just enjoy some time in the sauna or steam room.  Make sure you don't leave without seeing the 27-foot waterfall encompassed by 40-foot trees.  And while you're on the ground floor, stop by the main lobby area for a few drinks.
Although the Hilton Hotel and Suites Niagara Falls Fallsview can be on the expensive side, you get it back in extravagance, luxury, sophistication and elegant style.  However, don't let the appearance fool you – there are plenty of affordable rooms in the hotel if a first-class view is not your priority.  No matter what your appetite for luxury or your budget is, I highly encourage you to stay here, as you will be spoiled with excellent accommodation, superb amenities and friendly staff at the Hilton Hotel and Suites Niagara Falls Fallsview.
by Joe Hamway
Hilton Hotel and Suites Niagara Falls/Fallsview
6361 Fallsview Boulevard
Niagara Falls, ON L2G 3V9, Canada
Phone: (905) 354-7887