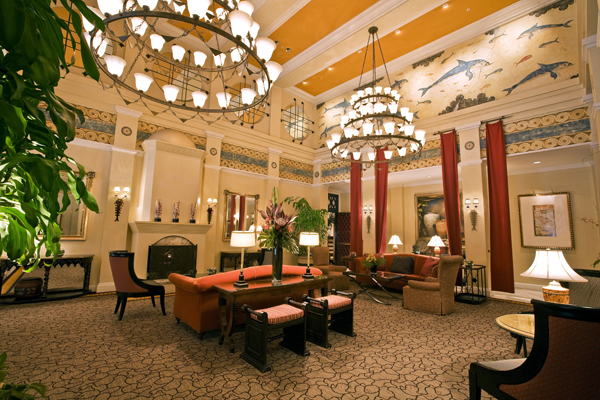 (Seattle, WA) When I traveled to Seattle to visit some friends I stayed at the Hotel Monaco Seattle. Previously I had stayed at a sister hotel to Hotel Monaco in Seattle, the 70 Park Avenue Hotel in New York City, but this West Coast version had a different feel and ambience. (HOW SO?) As I entered my hotel room my eyes were brought to life with the vibrant colors adorning the wallpaper, furniture and linens. The pinks yellows and blues flooded my vision and made me forget about the cloudy skies hovering over Seattle. I loved the atmosphere; it was completely different from any place I have stayed. There was character in every corner and I didn't want to leave. The room I was in was 1 of 5 different room arrangments at Hotel Monaco Seattle.  They have rooms such as the "Monaco Queen Room" (1 Queen bed and a view of the city), the "Monaco King Room" (1 King bed), the "Monaco Queen Queen Room" (2 Queen beds), the "Mediterranean Suite" (1 King bed featuring a two person jetted tub and separate shower), and the room that I stayed in was the "Monte Carlo Suite" (1 king bed, a queen sofa bed in the living room). Perhaps my favorite part of the room was my adopted fish for the evening, Liz, that was provided by the hotel.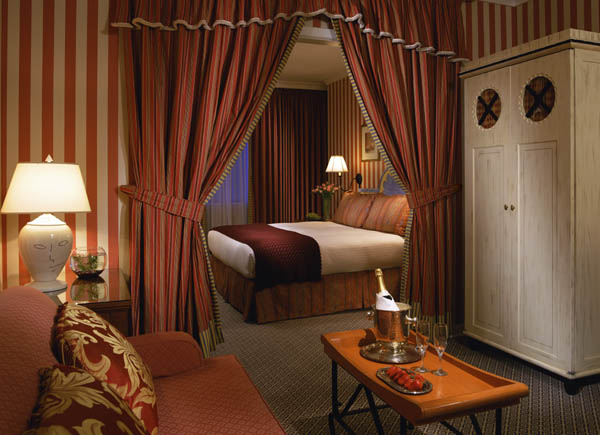 The amenities at Hotel Monaco Seattle I was impressed with were the complimentary shoe shine, same day dry cleaning and laundry service, pet friendliness, valet parking, VCR/DVD players in the rooms (I really like it when VCR's are still available because I am still using them), and a complimentary wine hour in the lobby, where on Fridays you can play Rock Band. You can even receive a Mind, Body, Spa treatment right in your hotel room and they provide yoga kits if you like to work out during your stay (I really should take advantage of Yoga, but I usually opt to eat at the hotel's restaurant instead).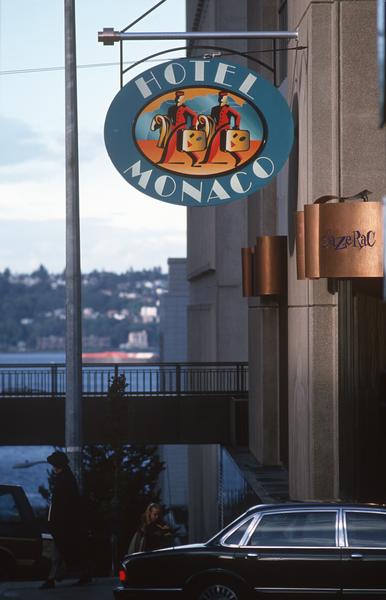 Sazerac, Hotel Monaco Seattle's restauant on site, is where I escaped my yoga for the night. There I experienced a wonderful atmosphere, great service and delicious food.  The dining room had chandeliers, velvet drapes and comfortable seating. They cook their food in open kitchen that delivers flavors of the South and Pacific Northwest. I started the meal with two appetizers, the Beef Tartare and their Warm Spinach & Radicchio Salad (It was a nice marriage of flavors of bacon, chickpeas and gouda). For dinner I had their tender Kobe Flank Steak with delicious Cauliflower-Pine Nut Gratin. I went a little overboard with the food but it was so good, I wanted more! So, like with every great meal, I had to eat dessert and luckily I did! I had one of the best vanilla ice cream I ever tasted, and it probably had something to do with the fact that it was hand-churn. It was so rich and creamy, that I may fly back to Seattle just to have this ice cream again! 
Hotel Monaco Seattle has it all for a great price that wont break your bank. Its perfect for a family, a couple, or even traveling on your own. The hotel is there to make sure you have the best stay possible and it shows. I really had a great time and I look forward to staying at a Kimpton Hotel again. 
-Adam Hamway
Hotel Monaco- Seattle, WA
1101 4th Avenue
Seattle, WA 98101
Phone: (206) 621-1770
Website