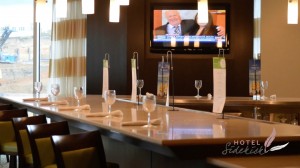 (Washington, DC) I was in Washington DC for business recently and stayed at the very quiet and convenient Courtyard by Marriott by the red line, Noma-Gallaudet U (New York Ave) Metro Station and Union Station (their train station).  I arrived in DC via Amtrak from New York and had a nice walk to the hotel on First Street NE with my 1 piece of rolling luggage.  I was able to stop along the way for a bite to eat at one of the many restaurants that decorated First.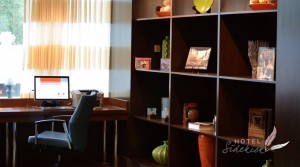 When I got to the hotel, I realized that their front desk is on the 2nd floor so I had to take the elevator up.  When I heard the ding and the elevator doors opened I went right to the from desk to check into the hotel.  I looked around the lobby and saw really nice pieces of art hanging on the walls and resting on shelfs.  I saw a relaxing seating area and close by a couple of computers for hotel guests.  If I walked further, I would have been in the bar/breakfast/lounging area; a nice and quiet place with some TV's.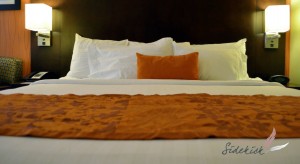 When I got to my room at the Courtyard by Marriott in Washington DC, the room was very clean and cozy.  The bed wasn't too soft or too hard, it was just right for me!  I jumped up and down on the bed for about 30 minutes.  Im kidding!  I wanted to jump on the bed, but I feared hitting the ceiling.
The bathroom too was very clean and modern/up to date.  You would be surprised by the number of hotels that have wonderful modern/new lobbies to welcome hotel guests but the bathrooms have not been updated in years!  I was very happy to see a nice bathroom!
I had a nice shower, a great night sleep, and a delicious breakfast in the morning at the Courtyard by Marriott in Washington DC.  Marriott did it again.  They put together another fine hotel.  I only wish I had the time to take a dip in their pool.  There is always next time.
-Adam Hamway
Courtyard Washington, DC/U.S. Capitol
1325 2nd Street NE
Washington, District Of Columbia 20002 USA
Phone: 202-898-4000
Website: Courtyard by Marriott-Washington DC