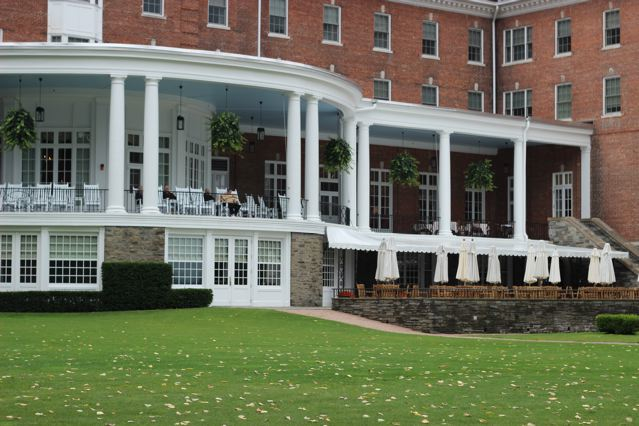 (Cooperstown, NY) I initially traveled to Cooperstown to see some cool baseball relics and get away from work for a few days, but when I arrived at the Otesaga Resort Hotel, I knew it would be a special weekend. Otesaga is the perfect place to go in the summer to soak in some gorgeous weather and enjoy the great outdoors. The magnificent grounds around the hotel are filled with pathways and benches, tables and rocking chairs, giving guests a chance to sit back, relax and enjoy the view of the scenic landscapes. I spent most of my time on the rocking chairs overlooking the beautiful Lake Otsego, where boat tours of the lake are given in the summer. For those guests who may not be interested in kicking back, the hotel is also home to the famous Leatherstocking Golf Course. This 18-hole course spans across and features its 17th tee box on an island. The hotel also has an outdoor pool with tons of lounge chairs and tables.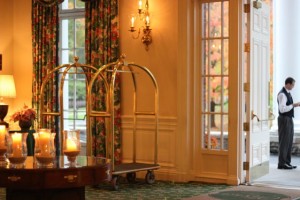 And the inside of the Otesaga Resort Hotel is just as beautiful, if not more. Every room in the hotel features little vignettes that take you back to the early 1900's, when the hotel was original founded. From the lounges to the dining rooms, even the hallways, it felt as though I was walking through a piece of American history. Otesaga houses a few bars and delicious dining areas, including the cozy Hawkeye Bar & Grill. Just remember to bring a pair of khakis! I stayed in the gorgeous Chief Unca's Suite, which had the same vintage appeal as the rest of the hotel. This suite featured a living room area with a television and couch for lounging on, as well as a complimentary tote bag and bottle of champagne.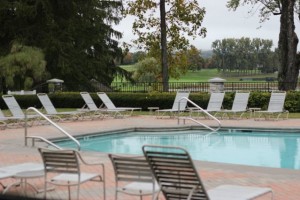 Most guests are staying in Cooperstown to visit the acclaimed Baseball Hall of Fame, which features thousands of baseball artifacts that everyone, especially fans of the game, can appreciate. Main Street features dozens of incredible baseball memorabilia stores, as well as clothing shops and restaurants. And if that is not enough for you, Cooperstown is also home to both the Farmer's Museum and the Fenimore Art Museum. Overall, the Otesaga Resort Hotel is the ideal hotel to stay at if you're in Cooperstown. It is the perfect place for a romantic getaway, a weekend with the boys, or a nice summer vacation with the family.
-Nick Ferreiro
Otesaga Resort Hotel
60 Lake Street
Cooperstown, NY 13326
Phone: (607) 547-9931
Email: Info@Otesaga.com
Website: http://otesaga.com/