(Montréal, Canada)- The Opus Hotel Montréal is located across the street from the theater where the Just for Laughs Comedy Festival is held every year on Boulevard Saint-Laurent Street.  Opus Hotel Montréal is also a short walk away from the Basilique Notre–Dame de Montréal (the church where Celine Dion was married) and near many restaurants and places to get a quick poutine, like the Frite Alors on Boulevard Saint-Laurent! Their poutine is so good.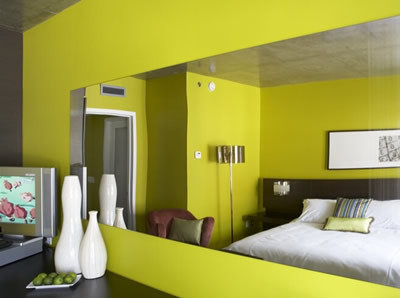 The Opus Hotel Montréal is a boutique hotel that has unique rooms designed by five fictional personalities. The hotel describes the personalities for each room in the following way "Manolo-wearing fashionista 'Susan', Euro-chic 'Pierre', a Parisian designer. Rounding out the roster is 'Mike', a hard-working and hard-playing New York doctor; Londoner and party-boy musician 'Billy'; and 'Dede', the resident method-actress diva". Each room has 5 bold color schemes to go with each personality!  I stayed in Mike's room, and I'd have to say, he has great style!  The colors used in the room were very warm and inviting while giving off hipness and class.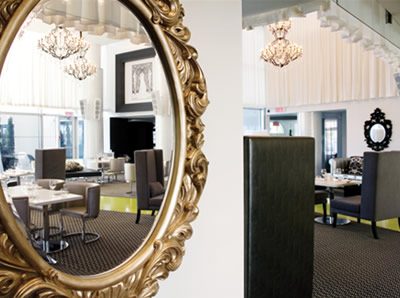 At night I ventured downstairs where the Opus Hotel Montréal was hosting not one, but two parties!  There was a party going on at Koko Restaurant and Bar; a classy restaurant with stunning art and beautiful chandeliers. The second party was going on at Suco Resto and Lounge.  This party had a DJ, a full bar, and a lot of dancing! If you wanted to be a part of the action, this hotel was definitely where you should stay in Montréal.  You do not need to go anywhere other than downstairs to the bar to dance, drink and have a great time with great company. 
 
Every morning they have a very delicious continental breakfast in their Koko restaurant.  While I ate, employees were setting up their gorgeous patio for a wedding reception that was being held later that evening.  There was always something going on no matter the time of day at this hotel and it always surprised me!
 
If you want to be in the center of the action, while being able to sleep in a quiet comfortable bedroom at the end of your day, then The Opus Hotel Montréal is a great choice for you. The Opus Hotel Montréal really utilized every inch of the hotel to bring out the true color of the hotel and Montréal!
-Adam Hamway
Opus Hotel Montréal
10 Sherbrooke Ouest
Montréal, QC H2X 4C9, Canada
Phone: (514) 843-6000
Website