(New York, NY) My cousin and I stayed and The Paramount Hotel located a half a block from Times Square on 46th Street. The beautifully decorated lobby at The Paramount Hotel was very lively, as there were always people milling about planning their day, checking in, checking out, or just enjoying the eye-catching art that surrounded the hotel.  The lobby's giant staircase leads to the Library Bar, where you can take a break from the bustling city and enjoy a soothing cocktail.  You could also dine in The Paramount Hotel's Mezzanine Restaurant that overlooks the gorgeous lobby.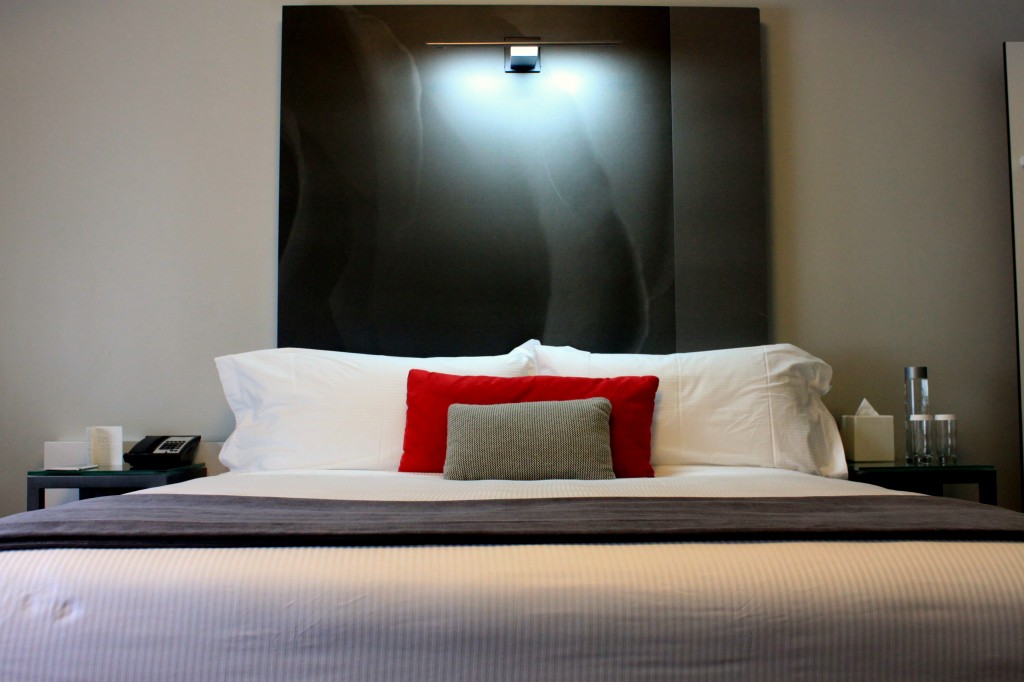 The rooms at The Paramount Hotel are perfect for shoppers! These hotel rooms have lots of space to make sure you and all of your purchases get a good night's sleep.  The room we had, with its modern designs, bold colors and extra real estate made it really easy to entertain company for a few people. 
In the morning before we set out, we stopped at Dean and Deluca coffee shop (located in the lobby of The Paramount Hotel) for some muffins, coffee and to plan our day.  We did not have to use the subway system because everything we wanted to do could really be accomplished right by the hotel in Time Square!  We saw the Broadway show "Promises, Promises" starring Sean Hayes and Kristin Chenoweth, ate the best cheesecake Manhattan has to offer at Juniors, went shopping on 5th Avenue, took photos of the entire city from Top of The Rock, visited St Patrick's Cathedral, ate at the Carnegie Deli, and took a tour of SIRIUS XM Radio.
When you stay at The Paramount Hotel, you really don't need to travel far to have a good time in New York City. Even if you wanted to get away from Times Square you could grab any subway line around the corner from the hotel, to get to any part of the city.  If you are interested in a very happening hotel in the heart of New York City then The Paramount Hotel on 46th street is a good choice.
-Adam Hamway
235 West 46th Street
New York, NY 10036
Phone: (212)-764-5500
Website