(Chicago, IL)- My friend and I stayed at the Trump International Hotel & Tower in Chicago, when we were in town visiting some friends, and I have to say the hotel was very classy and friendly.  As soon as we arrived we were greeted with hellos, welcome's and smiles before I even got to the front desk. The receptionist gave my friend and I bottles of water and moist toilette's to fend off the heat of the June day.  The bellman took our bags to our rooms without question and showed us around the hotel room. We stayed in the Lake Executive Guestroom that overlooked the Chicago River, Lake Erie, and the Wrigley Building.
.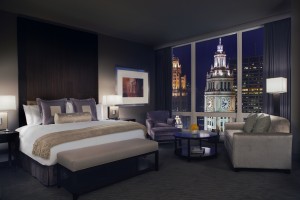 The view was truly amazing and the room was very spacious.  Dried fruit, nuts, an assortment of different snacks and a letter welcoming us to the hotel greeted us in the in-suite kitchen.  The bathroom had the options of a standing shower or a bathtub, 2 sinks, a television that was situated in the mirror so you can watch whatever you like while getting ready for the day, and plenty of space to move around (I like to do cartwheels in the bathroom so this was perfect). Every night there was a bottle of water and a little card that had an inspirational quote on it.  The bed was very comfortable and I fell asleep as if I was in my own bed at home.The Spa at Trump was a great place to relax and revitalize. They offered a number of different spa treatments, a steam room, sauna, pool, yoga and spin studios, and daily exercise classes. The place was awesome and very quiet and soothing.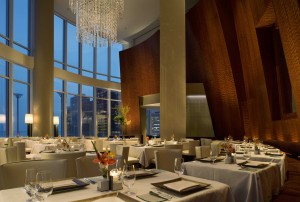 We also had delicious food from their restaurant "Sixteen".  We were unable to eat outside on the balcony that overlooks the Chicago River due to high winds but the view from the inside was gorgeous. The hotel is so close to Millennium Park, Navy Pier, The Chicago Theatre, Orchestra Hall and Sears Tower that we decided to walk everywhere. But if we wanted to venture further out "The Loop" (Where all of the train lines merge) was just a couple of blocks away.  The only time we had to grab a train was when we went to see Wrigley Field and the ride was really short (about 15 minutes). We had a great stay at The Trump International Hotel & Tower in Chicago. It's a great place to unwind and take in the best that Chicago has to offer.
-Adam Hamway
Trump International Hotel & Tower
401 N. Wabash Avenue
Chicago, IL 60611
Phone: (312)-267-0776
Website